ALL DARK – Friedrichstadt
Jazz Tour of National Socialism
A city tour to historic venues of jazz, passing Anhalter and Potsdamer Bahnhof.
Registration under 0171/5483492 oder anja@jazzgeschichten.de
The tours can be booked anytime, maybe in conjunction with a concert !? € 15 / person, two or less at least € 45

I am happy to meet your individual needs, just contact me in advance!
Berlin, 1933-45: Jazz stories against the background of National Socialism? And in the immediate vicinity of buildings where terror was planned and terror was carried out! A jazz tour to historic venues in Friedrichstadt is following up.
To Nazi Joseph Goebbels the power of Swing was known, the music just had to be manipulated properly!" And those swing fans, who teamed up with Hot Clubs, should keep cool?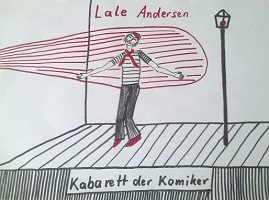 Musik 1933 – 45:
Internationale Musiker*innen:
Bennie Goodman
Django Reinhardt
Cole Porter – Born to dance
Irving Berlin – Swing high, swing low
Glenn Miller – In the mood
… in berlin
Jack Hylton
Berliner Kapellmeister:
James Kok
Erhard Bauschke
Kurt Widmann
Berliner Musiker:
Fritz Schulze/Fritz Schulz-Reichel
"Jazz"-Sängerinnen:
Rosita Serrano
Zarah Leander
Lale Andersen – Lilli Marleen
Nazi-Bands:
Die Goldene Sieben
Deutsches Tanz- und Unterhaltungsorchester (DTUO)
Charly and his Orchestra