ALL DARK – Friedrichstadt
Jazz Tour of National Socialism
A city tour to historic venues of jazz, passing Anhalter and Potsdamer Bahnhof.
Registration under 0171/5483492 oder anja@jazzgeschichten.de
The tours can be booked anytime, maybe in conjunction with a concert !?
Berlin, 1933-45: Jazz stories against the background of National Socialism? And in the immediate vicinity of buildings where terror was planned and terror was carried out! A jazz tour to historic venues is following up.
The power of Swing was known, the music had to be "just manipulated properly!" That's why in Berlin that time carried a variety of jazz stories, basically as well in the traditional and quite run-down amusement center of Friedrichstadt. And those swing fans, who teamed up with Hot Clubs, should keep cool?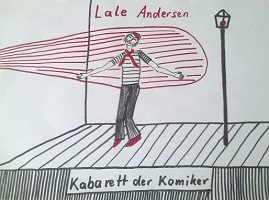 Musik 1933 – 45:
Internationale Musiker*innen:
Bennie Goodman
Django Reinhardt
Cole Porter – Born to dance
Irving Berlin – Swing high, swing low
Glenn Miller – In the mood
… in berlin
Jack Hylton
Berliner Kapellmeister:
James Kok
Erhard Bauschke
Kurt Widmann
Berliner Musiker:
Fritz Schulze/Fritz Schulz-Reichel
"Jazz"-Sängerinnen:
Rosita Serrano
Zarah Leander
Lale Andersen – Lilli Marleen
Nazi-Bands:
Die Goldene Sieben
Deutsches Tanz- und Unterhaltungsorchester (DTUO)
Charly and his Orchestra