KIND OF GOLDEN – Friedrichstadt
Jazz Tour of the twenties

A city tour to historic venues of jazz, past the Brandenburg Gate and Checkpoint Charlie.
Registration under 0171/5483492 oder anja@jazzgeschichten.de 
The tours can be booked anytime, maybe in conjunction with a concert !? € 15 / person, two or less at least € 45

meeting opposite of the Hotel Adlon, Unter den Linden 77,10117 Berlin, at S/U-Bahn-Entrance Brandenburger Tor; ending around 120 Minuten later close to Checkpoint Charlie, € 15, discounts possible
I am happy to meet your individual needs, just contact me in advance!
The twenties in Berlin – the "sin Babylon": Back to the Friedrichstadt, the infamous entertainment center of Berlin, which was still infamous from the Empire! The Wilhelminian splendor persisted, now affordable for everyone. A turbulent chaos, accompanied by the sounds of industrialization. Frantic, nervous, breathless – that was jazz. But basically there was the blues.

The Tour is telling about the prelude to sex, drugs and rock'n'roll!

ANITA BERBER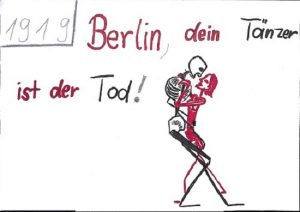 1918 – 1933 – Musik:
Internationale Musiker*innen:
Original Dixieland Jass Band – Tiger Rag (1917)
King Oliver
Louis Armstrong
George Gershwin – Rhapsodie in Blue
Irving Berlin – Blue Skies
Bix Beiderbecke
Eddie Lang & Joe Venuti
Duke Ellington – It don`tmean a thing ..
.. in Berlin:
Paul Whiteman
Sam Wooding and his Chocolate Kiddies
Berliner Musiker*innen:
Original Excentric Jazzband – Tiger Rag (1919)
Eric Borchard
Bernard Etté