KIND OF GOLDEN – Friedrichstadt
Jazz Tour of the 1920s
A city tour to historic venues of jazz, past the Brandenburg Gate and Checkpoint Charlie.
Registration under 0171/5483492 oder anja@jazzgeschichten.de 
The tours can be booked anytime, maybe in conjunction with a concert !?
meeting opposite of the Hotel Adlon, Unter den Linden 77,10117 Berlin, at S/U-Bahn-Entrance Brandenburger Tor; ending around 120 Minuten later close to Checkpoint Charlie, € 15, discounts possible
The 1920s in Berlin – the "Sündenbabylon": Back to Friedrichstadt, the Berlin entertainment center from the German Empire that was still infamous! Furthermore, the traditional places of entertainment attracted.The Wilhelminian splendor persisted, now affordable for everyone. Some forms of entertainment were particularly spectacular in this area, and of course there was no lack of jazz.
The prelude to sex, drugs and rock'n'roll! Jazz made the social chaos perfect, a jazz tour tells about it.
ANITA BERBER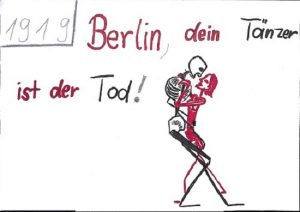 1918 – 1933 – Musik:
Internationale Musiker*innen:
Original Dixieland Jass Band – Tiger Rag (1917)
King Oliver
Louis Armstrong
George Gershwin – Rhapsodie in Blue
Irving Berlin – Blue Skies
Bix Beiderbecke
Eddie Lang & Joe Venuti
Duke Ellington – It don`tmean a thing ..
.. in Berlin:
Paul Whiteman
Sam Wooding and his Chocolate Kiddies
Berliner Musiker*innen:
Original Excentric Jazzband – Tiger Rag (1919)
Eric Borchard
Bernard Etté