KIND OF GOLDEN – Friedrichstadt
Jazz Tour of the twenties

A  city walk to historic venues of jazz, past the Brandenburg Gate and Checkpoint Charlie.
Registration under 0171/5483492 oder anja@jazzgeschichten.de 
A city walk can be booked anytime, maybe in conjunction with a concert !? € 15 / person, two or less at least € 45

meeting opposite of the Hotel Adlon, Unter den Linden 77,10117 Berlin, at S/U-Bahn-Entrance Brandenburger Tor; the

city walk

ends around 120 Minuten later close to Checkpoint Charlie, € 15, discounts possible
I am happy to meet your individual needs, just contact me in advance!
Acity walk right into  – the "sin Babylon" Berlin: Back to the Friedrichstadt, the infamous entertainment center of Berlin, which is still infamous from the Empire! The Wilhelminian splendor persisted, now affordable for everyone. A turbulent social mess.

In 1918, jazz sounded like industrialization, mechanization, so it was absolutely contemporary. For the workers, his hectic pace and nervousness meant revolution and stood for completely new times. In their optimism, the sounds could really inspire many and reach the progressive artists in their eccentricity. Then jazz served as the dance music in times of dance craze – Cakewalk and Shimmy in the first half of the twenties, Charleston in the second. The prelude to Sex, Drugs and Rock'n'Roll, the city walk tells of it!
From a technical point of view, however, the music was so extraordinary that many trained musicians preferred to continue to play classical music or light music. That's why spontaneously-based Jazzbänder, as they were called, from amateur musicians took on this task. There was no time for them. Jazz developed rapidly, and each new jazz style opened the music again to other social circles. Inevitably, we are in the midst of the issues of those days, such as modernity, gender and other social issues, anti-Semitism in particular or racism in general. Some places in the Friedrichstadt mirrored these controversies in a special way, and that's why this city walk reminds of it locally.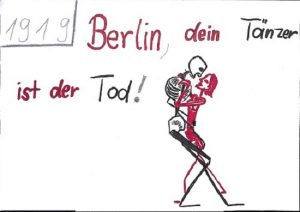 1918 – 1933 – Musik:
Internationale Musiker*innen:
Original Dixieland Jass Band – Tiger Rag (1917)
King Oliver
Louis Armstrong
George Gershwin – Rhapsodie in Blue
Irving Berlin – Blue Skies
Bix Beiderbecke
Eddie Lang & Joe Venuti
Duke Ellington – It don`tmean a thing ..
.. in Berlin:
Paul Whiteman
Sam Wooding and his Chocolate Kiddies
Berliner Musiker*innen:
Original Excentric Jazzband – Tiger Rag (1919)
Eric Borchard
Bernard Etté