KIND OF GOLDEN – New West

Jazz Tour of the twenties

A city tour to historic venues of jazz, past the Gedächtniskirche and the Theater des Westens.
Registration under 0171/5483492 or anja@jazzgeschichten.de
The tours can be booked anytime, maybe in conjunction with a concert!? € 15 / person, two or less at least € 45

I am happy to meet your individual needs, just contact me in advance!
The twenties in Berlin – the "sin Babylon": Let's look behind the facade on a jazz tour!How did jazz actually come to Berlin from America and how was it received? Where were the places and who were the protagonists? First of all, how did the music sound?
on the tracks of musicians and jazz fans, instruments and technical progress, we encounter racism and Anti-Semitism, gender issues, outrageous sounds and the blues. A first youth movement ushered in the pop era. And the modern entertainment center, the then New West, attracted in special ways.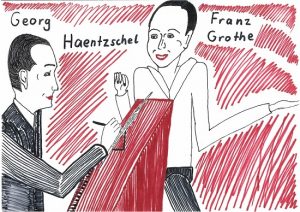 1918 – 1933 – Musik:
Internationale Musiker*innen:
Original Dixieland Jass Band – Tiger Rag (1917)
King Oliver
Louis Armstrong
George Gershwin – Rhapsodie in Blue
Irving Berlin – Blue Skies
Bix Beiderbecke
Eddie Lang & Joe Venuti
Duke Ellington – It don`tmean a thing ..
.. in Berlin:
Mike Danzi
Josephine Baker
The Virginians
Berliner Musiker*innen:
Original Excentric Jazzband – Tiger Rag (1919)
Dajos Béla
Weintraubs Syncopators
Georg Haentzschel
Franz Grothe