BERLIN HAT DEN JAZZ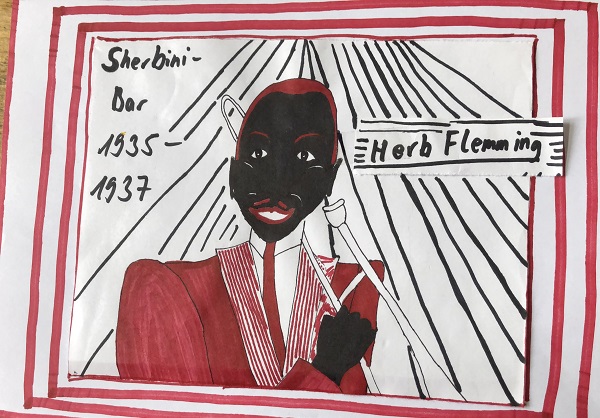 Herb Flemming, also spelled Herb Fleming, was born in Honolulu in 1898. His family came from Northern Africa. He became an important American jazz trombonist and singer of traditional jazz and swing. In 1917 during the First World War he was stationed in France as a member of a military band.
The Twenties
After studying trombone and music theory in New York and Rome, he played in a few bands in Philadelphia in the early 1920s and made his first recordings. He then went on a European tour with Sam Wooding. In the 1920s and 1930s he was often seen here in this or other formations. In London, Paris or especially in Berlin! (See Wolffram, Knud, p. 235)
The Thirties and Forties
Although Chancellor von Papen had officially forbidden any engagement by people of African origin in Germany as early as 1932, his successors, the National Socialists, could use an exception to the rule. In spite of their caustic misanthropic attitude! When the 1936 Olympics were approaching, they brought Herb Femming to Berlin. So they could prove how sophisticated and cosmopolitan the city was. From 1935 to 1937, the trombonist and singer was part of the basic line-up of the band in the Sherbini bar in Uhlandstrasse 18/19 in the New West together with the Berlin pianist Fritz Schulze. (see Knauer, Wolfram, p. 85) Many operators and musicians were happy when they didn't have to be too strict about complying with the regulations. (see Bratfisch, Rainer, p. 85f.)
The Herb Flemming post-story
In 937 he returned to the USA and continued to perform in various bands as a trombonist and singer. He also worked for the film. That led him back to Europe, where he made recordings with various musicians in Italy and Germany. From 1964 he has living in Spain for a while. He only moved back to America in 1976 and died shortly afterwards.
Deep Night – Sam Wooding Orchestra – 1929
Also see: KIND OF GOLDEN – Friedrichstadt, Jazz Tour of the Twenties