BERLIN HAT DEN JAZZ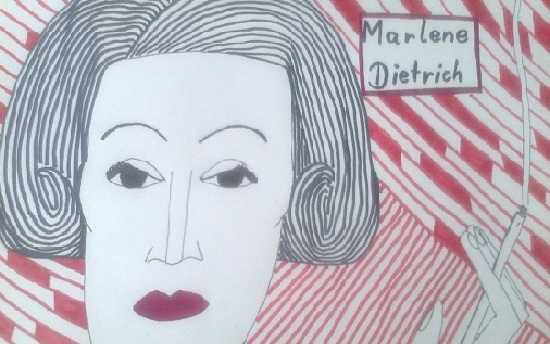 Marlene Dietrich was born in Schöneberg in December 1901. There she grew up in her mother's middle class household. in The young Marlene Dietrich initially pursued the plan to become a violin virtuoso. When that didn't work out, she performed as a chansonnier in Berlin in the mid-twenties. Schöneberg had meanwhile been incorporated into Berlin. She also sang in the company of the banjoist and guitarist Mike Danzi of Italian American origin. (cf. Bratfisch, Jazz in Berlin, p. 58) "Jazz got her".
At the theatre
In addition, she began to play small roles on various Berlin stages. In 1928, for example, she appeared in the revue "Es liegt in der Luft", for which Mischa Spoliansky provided the music. (see Knauer, Wolffram, Play yourself, man! p. 46) For the revue "Zwei Krawatten" it was Friedrich Hollaender who composed the music. These pieces showed off her musical talent. Here she was discovered by the Hollywood-based director Josef von Sternberg of Austrian origin.
At the movies
He was looking for a leading actress for Lola in his film "Der Blaue Engel". At the audition he invited her to, she forgot the slip of paper with the lyrics to the song and instead sang the only American song she knew by heart. That more than convinced Josef von Sternberg! She had the role! And Friedrich Hollaender wrote the music again, and Weintraubs Syncopators recorded the complete film music in 1929 and 1930 (Bratfisch, Jazz in Berlin, p. 47). They also accompany her vocal performances in the film.
In Person
Marlene Dietrich became internationally known and made a career in Hollywood (see Nippoldt, Robert, It becomes night in Berlin in the roaring twenties, p. 155 ff.) Her deep, smoky, erotic voice and her pantsuits became characteristic. she made the garment socially acceptable for women in the 1930s. She took citizenship of the United States in 1939 and worked in troop support for the Allies during World War.
Marlene`smusic:
Ich bin von Kopf bis Fuß auf Liebe eingestellt
Ich hab noch einen Koffer in Berlin
Also see: KIND OF GOLDEN – The New West