THE "AMERICAN" JAZZ SZENE IN BERLIN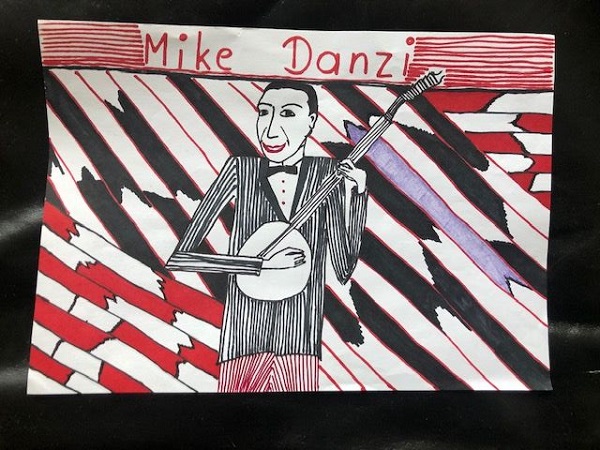 Mike Danzi was a prestigious banjo and guitar player and band leader of jazz and light music. The son of Italian immigrants was born in New York in 1898.
In the American jazz scene in Berlin
In 1924 he came to Berlin in the Alex Hyde Orchestra. Many key figures from the Berlin studio musician scene of the 1920s and 1930s came from the orchestra. Mike Danzi was staying for almost 16 years. He was regarded "the American in Berlin". Especially for "authentically American" bands there were countless opportunities for recordings. 17 record companies were based in Berlin. They produced for the European and worldwide market. (cf. Knauer, Play you own thing! p.43) The Marry Macs were one of these formations. It was soon the most popular small band in Berlin. (see Bratfisch, 55)
The Virginians provided a later example. They represented the Chicago Jazz style. Together to other musicians of American origin he founded it in 1929. Back then, there was no way in Berlin to learn or study jazz "properly". That is why bands like the Virginians were the most important schools for interested Berliners. The professionals just let them get in. Like the Berlin pianists Georg Haentzschel und Franz Grothe. In the best sense of jazz "learning by doing"!
In the cultural scene in Berlin
n the mid-twenties Mike Danzi jammed with Paul Whiteman or Sam Wooding. And he accompanied Judy Garland and Marlene Dietrich. It was a question of prestige for the Berlin orchestras to have an American soloist in their ranks. (cf. Knauer, p. 54). This led the musician to Dajos Béla, in 1926 to Eric Borchard and Marek Weber.. And with them he played in Max Reinhardt's Großes Schauspiel-Haus, the Hotel Adlon or the Luna Park. He made his contribution in the accompanying orchestras of the silent film theaters. And from 1929 he did that directly in sound films like "Der blaue Engel" by Joseph Sternberg. He was part of the orchestra of Paul Abraham´s "Blume von Hawaii" and of Kurt Weill´s "Aufstieg und Fall der Stadt Mahagonny". (cf. Bratfisch, p. 58)
In 1928, a legendary dance palace was opened on Kantstrasse. On this occasion the Delphi Palace presented the band of the English alto saxophonist Billy Bartholomew. It consisted of top musicians only. Mike Danzi was one of them! (cf. Wolffram, Knud, Tanzdielen und Vergnügungs-Paläste, p. 134 f.)
Mike Danzi: Lollipops (1934)
See also: KIND OF GOLDEN – The New West