BERLIN HAT DEN JAZZ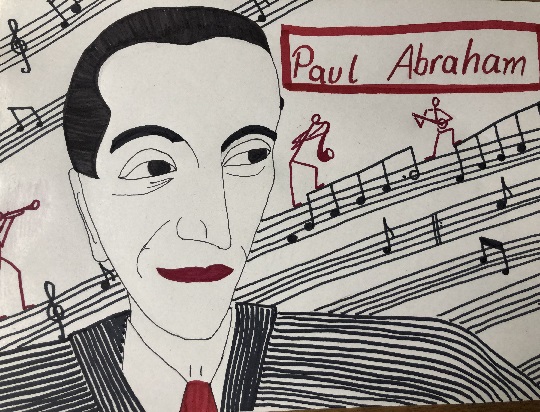 Paul Abraham (Pál Ábrahám) was born in the German-speaking community of Apatin (then Hungary) as the son of the Jewish merchant Jakab Abraham and his wife Flora Blau. From 1913 to 1917 he studied composition at the Royal Hungarian Music Academy in Budapest and performed several of his works there.
He then worked as an employee and also conducted small ensembles in cafés and jazz cellars. In 1927 he became Kapellmeister at the Budapest Capital Operetta Theater. He celebrated success with his operettas and also staged his first play.
Paul Abraham in Berlin
At that time he contributed with a song to the success of Ufa's first sound film in Berlin. "Melodie des Herzens" made him famous here suddenly. His record became a huge success. He moved to Berlin in the early 1930s and became one of the most requested composers of his times. With musical stage pieces like "Die Blume von Hawaii" or "Der Ball im Savoy", he created the most successful ones in Europe.
Abraham had been open to jazz-musical influences from the start (see Bratfisch, Rainer, Jazz in Berlin, Berlin 2014, p. 67). By combining traditional with jazzy elements, he succeeded in fundamentally modernizing the operetta genre.
For example, the banjo player Mike Danzi of Italian-American origin often appeared as a popular soloist in his operettas. 1931/32 he played in "Die Blume von Hawaii" in Leipzig, Berlin and Budapest. (cf. p.58 f.).
In 1931 also jazz composer and pianist Sam Wooding and other musicians from his orchestra of African American background were engaged additionally for the Metropol Theatre in Berlin. Interestingly, as Knud Wolffram is reporting, this episode shows a racist attitude of Paul Abraham and his orchestra despite all! The piece was having a scene showing black faced musicians playing clowns – the embodiment of racism. Then some Berlin musicians of the Abraham Orchestra were trying to get rid of their African American competitors through the official way – employment agency. Ultimately as Paul Abraham insisted on this authentic note, he had to separate the musicians into orchestra and jazz band. In the end everybody was playing her or his part!!
In general
Anti-Semitism had been deeply rooted in Germany for very long time. Negrophobia was a younger phenomenon. Both had increased during Word War One, and combined. So jazz music now became "the symbol of a Negreo-Jewish spoiling of the national culture". First ones were the "creators and musicians", and second ones its "stagers and promoters".
At the same time, Abraham provided the music for films from productions across whole Europe.
The emigration
On January 30, 1933, the National Socialists took the power in Germany. And the run of Paul Abraham was over. Like countless other musicians and composers, Paul Abraham was forced to emigrate to Budapest, Vienna and New York. (see Bratfisch, Rainer, Jazz in Berlin, p. 88) In the emigration he fell seriously ill. In 1956 he returned to Germany and in 1960 he died in Hamburg.
Paul Abraham, "Die Blume von Hawaii" (1931)
Also see: KIND OF GOLDEN – The Friedrichstadt