BERLIN HAT DEN JAZZ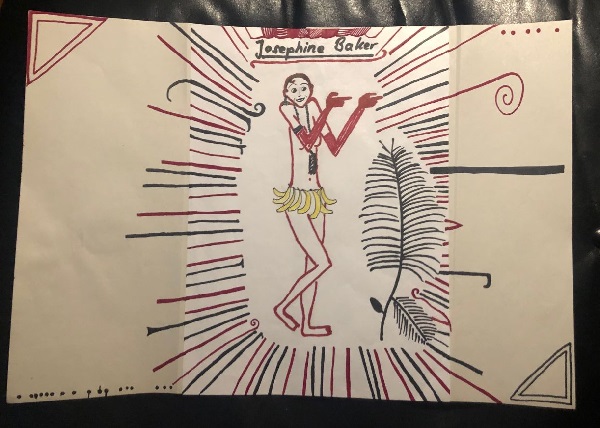 In 1925 the singer and dancer Josephine Baker moved from New York to Paris. She fled from racism in America. Rudolf Nelson lured her to Berlin for the first time in 1926. She danced charleston solo in the Nelson Theater. With the "Revue Negre" Max Reinhardt and Eric Charell wished her to sing and dance at the Große Schauspielhaus, in vain. That revue-show was accompanied by the New York pianist Claude Hopkins and his quintet with Sidney Bechet among others. In 1928 then she did take part in the Nelson-Revue "Bitte einsteigen". The Weintraups Syncopators accompanied her. The music had been written by Friedrich Hollaender.
Josephine Baker and her carrer
Baker was a courageous, ambitious, and proud woman. Her concept from a today point of view is problematic. She had specialized in playing with racism and sexism on stage. Humorously and offensive! It was in order to earn money on the one hand, and not to lose her self esteem on the other hand. And she was right! So she toured in various shows throughout Europe fdriving audiences crazy all over.
Her personality
It seems absurd, Josephine Baker tried everything to get white. She had as well an African-American as an Euro-American background. And she knew how to market herself. "Black Venus", "Black Diva in the world of the whites". She became the first eccentric superstar of the booming entertainment industry in Berlin in the mid-twenties , the first one of the 20th century". (see Bratfisch, Rainer, Jazz in Berlin, Berlin 2014, S. 61)
Nevertheless the Baker then got into breach of contract here. She left the Revue Negre and Berlin early for an engagement at the Follies Bergere in Paris.
She was the epitome of a multiethnic and sexually liberated modern age, To this day, she is a Women´s icon of the 1920s. Later on she was active in French Resistance against the Nazis. And in the sixties she participated in the civilrights movement under Martin Luther King.
Josephine Baker dancing the original charlestonhttps://www.youtube.com/watch?v=jEH6eDpjgRw
See also: KIND OF GOLDEN – The New West